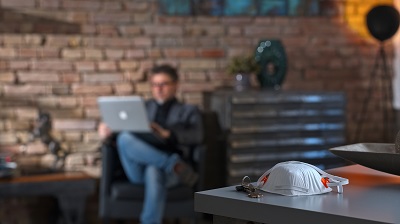 So here we are, nearing the end of April, and we're still in isolation due to COVID-19. Working from home can be challenging, if not impossible at times. Tempers can be short. Frustrations can be high. Wondering how you're going to get through this?
Plain and simple, we don't know how long we'll be "staying/working from home". Help yourself by taking one moment at a time, one morning at a time, one week at a time. Thinking too far ahead, into a future that you can't control, can contribute to feelings of anxiety, overwhelm or being frozen. I'm here to help you. Here are some wellness tips for staying mentally healthy while at home.
Strategies for Being at Home and Working from Home
Have realistic expectations:
Decide what is realistic while you're at home. Remember, you're working to earn an income + caring for the physical and emotional needs of your family + being a teacher + being there for friends and extended family.
Practice self-acceptance and remind yourself that you are doing the best you can.
Understand that this pandemic is temporary.
Explain to your family that if everyone follows government guidelines it will move us another step closer to ending stay at home restrictions.
Establish a routine:
Go to sleep at a reasonable time and get up at a reasonable time.
Shower and take care of personal grooming needs.
Get into your "work" self by dressing the part.
Create set times for breaks, meals, walks…
Structure work periods with a beginning and an end.
Get some fresh air:
Go outside or open your windows at least once a day. Fresh air helps! Try early morning or later in the evening.
Drink water, eat well and exercise:

Stay hydrated.
Set an alarm when it's mealtime.
Try new recipes.
Be mindful when you're eating. Let your senses fully experience and appreciate your food.
Beware of stress eating. Prepare healthy snacks in advance, e.g. fruits and vegetables. They can be your go-to source for quick energy.
Make time to move each day outside/inside. Take a few minutes to research new exercise/yoga routines to keep it interesting.
Reach out to others:
At least once a day for 30 minutes, virtually socialize with your friends using apps like Teams, Zoom, FaceTime, Skype. Technology not your thing? Use the phone.
Check in with your extended family to see how they're doing.
Set this up for your kids too – they can chat, play virtual games, share videos. They're missing their friends the same way you are!
Be patient with others:
Remember everyone is doing the best they can.
The people you work with may be juggling a lot right now, as are essential service workers – like health care heroes, grocery store workers, committed couriers, take-out restaurant crews. Let's take a collective deep breath and remember, we may not be in the same boat, but we are certainly in the same storm.
Cabin fever may lead to irritability – be kind to "Grumpy" and show him/her you care.
Respect the need for alone time:
Respect everyone's need for alone time (even the dog).
Tag team with your spouse or older children if caring for younger children, so everyone gets time to be on their own.
Let your kids build tents/forts or other cool hangouts so they get a break from their siblings (and parents).
Take online courses:
Learn a new skill for work – project management, data analysis, contract law. Make the decision to come out of this better than you went in. Check out all of the free courses available at www.edx.org. Click on the name of the school to explore free courses.
Learn a new hobby – how to fix a computer, macramé, bake, build a model airplane. YouTube has thousands of "how to" videos. Pick your passion and go for it!
Limit social media and news consumption:
Less news = less anxiety.
Find trusted sources and limit your consumption of COVID-19 news.
Look for positive, inspirational stories.
Look for the good in the world and help others:
Make it your mission to notice the good – learn about all the helpers out there.
Find ways that you can help others – your colleagues, your neighbours, your community.
Say hello and thank you.
Look for hope in this challenging time.
Find something to control:
While we can't control what is happening out there, we can control what to make for dinner, when to turn off the news, and what to do with your hair today.
Try organizing a closet, your pantry, a bookcase, or files on your computer.
Focus on a long-term project:
Stay busy with a big project – clean out the garage, read a fantasy series, work on a 1,000-piece puzzle, purge old paper documents, and digitize the ones you want to keep.
Find something to keep yourself distracted and busy. Something that allows you to take a break from the world outside.
Find lightness/humour in your day:
Do something silly – try a crazy hairstyle, odd socks, a Halloween costume, or hat day at home. Get everyone involved.
Look for the "oh so bad they are good" movies to laugh at.
Check out cartoonists online – The Far Side, Garfield, The Family Circus.
Develop a self-care plan:

Find activities that you find calming and comforting – reading books, hot baths with essential oils, comfort foods (in moderation, of course).
Express your creativity through arts and crafts, writing, singing.
Engage in activities that will get you moving – yoga, walking, playing with kids, puttering in the garden, dancing in the living room.
Experience the positive affects of self-soothing repetitive movements, such as knitting, colouring, painting, running, drumming, jumping. Repetitive movements, especially left-right, promote a sense of well-being.
Embrace activities that help pass the time and engage the mind – playing board games, card games, doing jigsaw puzzles, looking at old photos (and trying to figure out who's in them).
Find meaning in this experience:
What positives can come from this crisis?
What opportunities may emerge from this experience?
What can we learn about ourselves through coping with this situation?
What are you grateful for?
What changes need to happen in ourselves, our community, our workplace?
Learn more about how to cope with the pandemic, deal with self-isolation, care for loved ones, and/or working from home. Book an appointment by clicking on this link. My counselling services continue to be available through Zoom video or phone. I am a Registered Psychotherapist with many years of experience helping individuals who are struggling with anxiety, depression and stress. Listening, Guiding. Caring.