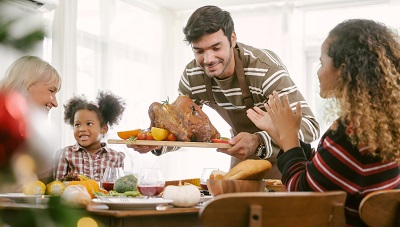 With Thanksgiving this weekend and Christmas right around the corner it seemed timely to write about strategies to cope with the dreaded family dinner.
Is the holiday season one filled with joyful anticipation or complete dread?  Do you like to get together with family?  Is the upcoming holiday season going to be challenging for you? Read on for strategies to assist you with turkey day and more!
It all starts with a little planning…
Pick a day and time that will allow for recovery time.  You do not have to have your visit on the exact day.  I know many of us have "traditions", but for the sake of everyone's sanity, it doesn't all have to happen on one day or even one weekend.  Thanksgiving can be the weekend after – or it can be celebrated on the U.S. Thanksgiving weekend (this year that's Thursday, November 28). Spread out the joy!
You do not have to spend the entire day or entire weekend together.  Remember that it may have been many years since you have spent that much time together.  Opt for a shorter amount of time.
Go out to eat if you can afford to do so.  This takes the pressure off everyone particularly the person hosting the event.  Or plan a potluck meal.  This way the work can be equally distributed among the entire group.
Spend some time at the next function talking about how future functions could be.  If this feels too overwhelming send an email introducing the topic first.
The day of the big event…
Arrive in a timely fashion.  This means not too early or too late.  Too early and it may be too much.  Too late and you will stress out everyone else.
Have minimal expectations.  Expectations increase stress.  It doesn't have to be perfect.  It doesn't have to run smoothly.  And in fact the food doesn't even have to be hot.  Just go with the flow.  It will not kill you or anyone else to eat cold turkey (as long as it's cooked).   It may not be ideal, but let the expectations go.  We do not have hallmark card families or movies.
Take time for breaks.  What do I mean by this? If the crowd is in the living room, opt to wash the dishes in the kitchen or see how the kids are doing in the basement or walk the dog.  Breathe.  You can do this differently.  Worst case scenario you can take a few moments in the bathroom or garage.
Remember that some of your family members depending on age might not be there the following year.  Spend time with them even if it means that you have to hear the same story from great aunt Edna. Focus on bringing moments of lightness to someone else.
You can do this!  Many of us have been following these strategies for years.  Let's make this holiday season different.  If you or someone you love needs assistance before, during or after family events, I am happy to help.  Click on this link to book an appointment.  I am a Registered Psychotherapist with extensive experience in helping individuals change their lives.
Wishing you and your family all the best as we start the holiday season with Thanksgiving!
"Gratitude is a powerful catalyst for happiness. It's the spark that lights a fire of joy in your soul." – Amy Collette"
Listening. Guiding. Caring.