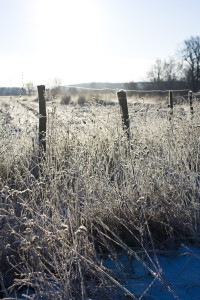 With the holiday season a distant memory, most of us are cold and waiting for spring!  In January it is not uncommon for people to feel low, blue, and out of sorts.  It is particularly important to pay attention to how you feel and consciously take steps to beat those blahs.  Outlined below are some simple strategies to get started:
Exercise, not for weight loss or to fit into that dress, but for mental health.  It doesn't have to cost anything.  Put on a pair of boots and walk.  Someone once told me that there is no such thing as bad weather, just inappropriate clothing.  If you haven't been exercising start off small and walk around the block.
Get outside and enjoy nature.  Today happens to be a beautiful day.  It is cold, but the sun is shining.  Even a few minutes in the sun can help improve your mood.  If it truly is too cold, curl up in a chair in the sunshine and soak up the warmth.
Plan, prepare and eat healthy meals.  Again this is not for weight loss.  Eat more fruits and vegetables.  Make that special dish that you haven't had for awhile. Get your family involved and make a meal together.
Pamper yourself.  This can mean almost anything.  Start reading that book you received for Christmas.  Paint your nails.  Buy a magazine.  Talk to a friend on the phone that you haven't heard from in awhile.  Watch the football game.
Plan something special that you can look forward to in the next few weeks or month.  The possibilities are endless – a special evening out with your partner (Valentine's Day is around the corner!), dinner with friends,  or a family skating afternoon.  There are so many things happening in your community or a community nearby, take advantage of the chance to get off the couch and out of the house.
If the January blahs persist or get worse, please talk to your family doctor.  If you need personal counselling, psychotherapy or help with a mental health concern, contact Annette Poechman. Listening, Guiding, Caring.