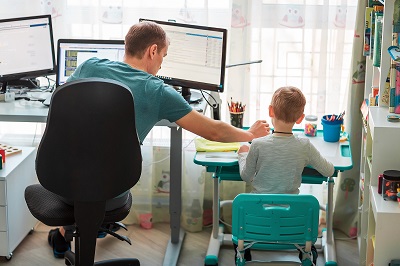 The world of work has changed!
If you are an employer, manager or supervisor you may be struggling with how to adapt to team members  working from home, whether it's all or part-time.
Here are 10 tips on how you can best support your team.
How to Support Employees During the Pandemic
Communication is key. Communicate clearly and with empathy. Listening to understand is key. The world is constantly changing as we respond to the latest COVID-19 news. Your employees will be stressed as they continue to adapt, and productivity will not always be optimal.
Remember to tell employees about specific organizational resources such as Employee Assistance Programs (EAP) or extended mental health benefits.
Provide suitable ergonomic adaptations for the new home office. Let employees take workstation equipment home if you have not already done so.
Encourage physical activity by providing a wellness spending account or access to online fitness programs. Link mental wellness with physical activity.
Encourage the separation of work space and home space wherever possible and remind your staff to take appropriate breaks during the day.
Recognize that employees may have a response to the prolonged stress of the pandemic and need additional mental health supports such as one to one peer support or more social engagement with others.
Flexibility is important! When possible allow employees to schedule their hours in a more flexible way.  Focus on productivity not time.
Help employees set boundaries around time spent working and time spent connected to the organization. Talk about this to reduce the stigma around asking for help.
Schedule regular regular check-ins with your employees both individually and in groups. Knowing that there is a time for their concerns to be heard will go a long way towards reducing stress for everyone.
Above all show kindness and respect to all of your employees. We are all doing the best we can in a prolonged stressful life changing situation.
The Mental Health Commission of Canada created a Mini-Guide to Help Employees' Mental Health Through Winter. It's an excellent resource covering topics such as:
Reasons people experience mood changes
Challenges of a pandemic during winter months
How employers can help employees
Working from home
Stress and productivity
How to show kindness
Learning any new routine or behaviour takes time and patience. Embrace the changes happening in our world and remember to indulge in little joys along the way!
Listening. Guiding. Caring.